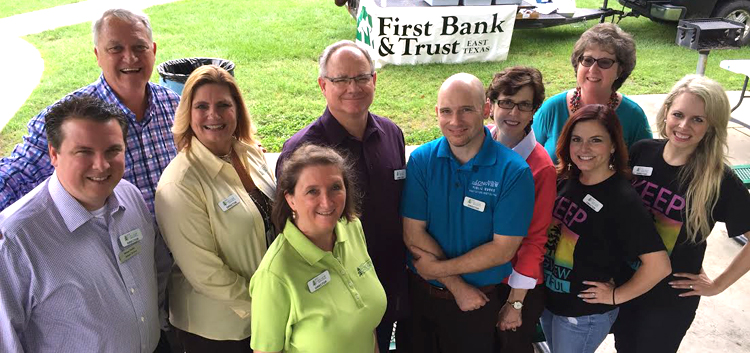 Mission
Litter Prevention • Beautification • Waste Reduction
Keep Longview Beautiful will educate and engage our community to take responsibility for improving their environment through litter prevention, beautification and waste reduction.
History
Keep Longview Beautiful began as the Longview Beautification Association (LBA) in May 1979. Work was carried out by volunteers and a 17 member Board of Directors representing a cross-section of the community. Lee Wain Pursely served as the first president of LBA and his wife, Linda, began as the executive secretary and volunteer coordinator which she continued doing for 26 years. The objective was to make the greater Longview area a cleaner, healthier, safer and more beautiful place in which to live and work through concentrated programs of antilitter, cleanups, and beautification. LBA founded many resilient, community minded programs that are still in effect by Keep Longview Beautiful today.
A desire to enhance the group and spread its professional wings led to a strong partnership with leading national and state organizations Keep America Beautiful and Keep Texas Beautiful. In 2006 the transition was begun. Today, Keep Longview Beautiful holds the two highest affiliate accolades from each of these associations: Gold Star Affiliate from Keep Texas Beautiful and President's Circle recognition award from Keep America Beautiful.
Who We Are
Longview, Texas is undeniably one of the most beautiful parts of the finest state in our nation. Longview has grown quite a bit in recent years and during this growth Keep Longview Beautiful has worked to preserve and enhance the quality of life in our community. We are a strong, nonprofit organization focused on helping citizens understand waste reduction and environmental stewardship. Passion drives us, vision and commitment to the East Texas region keeps us moving forward and hard work sustains the Board of Directors of Keep Longview Beautiful!
Keep Longview Beautiful Board of Directors are a passionate group of hardworking individuals. This is a working Board and work they do! A diverse group from the Gregg County area, the Board of Directors is constantly looking for others that share a passion for improvement. Keep Longview Beautiful is not a political group where members hold their own individual agendas. Instead, the Team works cohesively with the Executive Director to be forward thinking and heartfelt in community improvements.
Our mission of educating and engaging our community to take responsibility for improving their environment through litter prevention, beautification and waste reduction is one we take seriously. Partnering with government, civic organizations, schools, churches and neighborhoods gives us the strength to help enhance our community and persevere for years to come.
For more information email us here