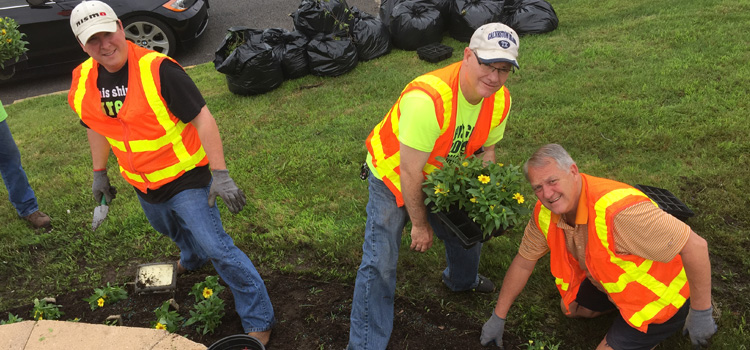 Mission Statement
Keep Longview Beautiful will educate and engage our community to take responsibility for improving their environment through litter prevention, beautification and waste reduction.
Beautification

+

WHAT IS YOUR DEFINITION OF BEAUTY?

Is beauty a characteristic? Is it perceptual for you? Have you had a beautiful experience? Perhaps you admire some one or something and to you, that is beauty. Whatever your eye beholds as beauty we hope you share your harmony and balance within Longview.

Litter Prevention

+

Litter attracts litter and is a serious environmental issue. Individuals are more likely to litter in a dirty area. By contrast, a clean community discourages littering and greatly improves overall quality of life. Changing a common behavior, like littering, starts with you. Each person must accept responsibility for their actions and influence the acts of others at home, at school, in your place of business, and in the community at large.

Keep Longview Beautiful continues to monitor roadside trash in Longview with the annual Community Appearance Index. Designed by Keep America Beautiful, this tool visually assesses the overall appearance of a community through indicators such as litter, illegal signs, graffiti, abandoned vehicles and outside storage. A team of community, business and government representatives conducts the analysis using a scoring system ranging from 1-4 with '1' being the best and '4' being the worst.

Waste Reduction

+

We know, we know….the big question:
WHAT THE HECK CAN BE RECYCLED?

It's easy, we promise!

ALL clean paper and cardboard
ALL clean plastic
ALL clean metal (aluminum, steel, tin)

So go ahead…do it because it's right and easy…RECYCLE!
Programs
---
ART from the heART

+

Keep Longview Beautiful helps to educate and engage our community to take responsibility for improving their environment through litter prevention, beautification and recycling. ART from the heART will inspire people to beautify areas of Longview through outdoor art. Donations may be made anonymously or named and will be directed through the nonprofit, 501 (c) (3) organization Keep Longview Beautiful.

DONATIONS:

We look to our community and supporters that have this artistic vision for Longview's future. Family members like you help us intensify our impact and solidify this unique inheritance for Longview.

Click here to learn about donor criteria.

Adopt A Street

+

Get involved! Help our community be litter free. Find a stretch of street you are passionate about, pick up litter 4 times a year in your adopted area and make a difference. Others will see your LOVE for Longview and catch the spirit! Your name will be placed on signage at your adopted location. Contact us!

Enter your quarterly litter clean up statistics

Community Tree Project

+

The Community Tree Project was started on February 2, 2013. A combined thirty-one trees were planted on the municipal areas of the Longview Police Station, City Hall and Public Library. Keep Longview Beautiful's largest fundraiser, Death by Chocolate, funded this magnificent project. Partnering with District Forester Daniel Duncum of Texas A&M Forestry Service the trees were chosen to provide shade to parking lots and buildings as well as replace some of the hundreds of trees Longview had lost to drought. The Longview Parks and Recreation Division planted the trees and continues a healthy schedule to maintain their beauty.

Downtown Corners

+

Summer and fall seasons find the corners around Downtown a beautiful site indeed! If you cruise down Fredonia Street and hang a right on Tyler Street you are likely to find flags and fireworks in July and pumpkins and scarecrows in October. Downtown Corners are a fundraising project for Keep Longview Beautiful that definitely supports our mission statement of beautifying but also allows amazing community partners to show their LOVE Longview attitude! Corners are decorated for six weeks at a time and sponsors receive 24 hours a day, 7 days a week in advertising for their business! You know you can't get that great of a deal on marketing anywhere else! One season is $500.00 but the real bargain buster is getting both seasons for $900.00! Contact us if we can show your business off on a Downtown Corner!

Recent Sponsors

Downtown Flower Pots

+

In an effort to beautify the historic heart of our community the Board of Directors and their families plant downtown flower pots twice a year. Downtown merchants must commit to a 2 year contract of maintenance (watering every day in the summer!) and keeping the area around their store fronts and flowers pots clean and litter free.
Longview Green and Clean

+

Your browser does not support the video tag.

Longview Recycles Day and Trash Bash has a new name! LONGVIEW GREEN AND CLEAN!

TWO Longview Green and Clean events every year!

Judson Median

+

Keep Longview Beautiful has long sustained the traffic median at the confluence of Judson Road and North Fredonia Street. In 2012 the Board of Directors took on the quantitative task of updating the area to bolster pride for our residents and help make our city more attractive to visitors. Keep Longview Beautiful feels strongly this should be a 'showcase' area for our community that is not only beautiful but environmentally sustainable.

As with all projects, Keep Longview Beautiful is dependent upon strong community partners. A premier local outdoor design firm, Tucker and Associates, furnished three improvement options for the Board of Directors to select from. The City of Longview committed help for irrigation and mowing and AEP Swepco cleaned up and enhanced the electrical needs for the median to accommodate this project. Ronnie Rice and Morrison Supply contributed money for the first batch of spring flowers and Rob Holloway of New Orleans Garden Nursery helped with planning flower beds and acquiring needed plants. Each of these civic heroes continues to be an alliance to Judson Median and our community.

LOVE Letters

+

Send us your LOVE letter!

What is your fulfilling LOVE Longview story? What makes the work meaningful to your group? How has loving Longview enriched your life and those around you? What has your group completed to show their LOVE Longview Spirit? Send us a LOVE letter and tell us about your community LOVE!

LOVE Longview

+

LOVE Longview is an environmental campaign that helps our community be a premiere destination now and for future generations. Citizens, businesses, civic groups, churches and schools can all work together to help our community's 'green footprint' and show just how much they LOVE Longview! This program is sponsored by Keep Longview Beautiful and the City of Longview's Sanitation and Parks & Recreation Divisions. The approach is three pronged and includes beautifying, cleaning up and recycling.

Let us brag on how much you LOVE Longview! Submit what you or your group is doing to show their LOVE for Longview! OH, and by the way, we'd love to get a LOVE letter from you!

Recycle Bins on Heritage Plaza

+

Heritage Plaza is the original site of The Gregg Hotel which held its grand opening in 1930. Five years later the hotel became the second property in the iconic chain of Conrad Hilton hotels. After being dormitories for several years for LeTourneau University the building was finally demolished and the City of Longview purchased the land. One Hundred Acres of Heritage, a group of folks with a vision to improve our downtown, agreed to construct Heritage Plaza—an historic park for Longview.

Today, over 80 years later, Keep Longview Beautiful is pleased to be a part of the addition of recycle bins at Heritage Plaza and feels certain General John Gregg and Conrad Hilton would be proud and mightily impressed! Perhaps our entire historic downtown will be 'green' soon…..we think it can!

Litter Index

+

Involving community representatives in the process is important to achieve partnership solutions and to promote individual responsibility, ownership and pride in results. Longview's Litter Index is assessed by evaluating fifty different areas in our community. The fifty stops were configured in each of our six council districts in the most efficient way possible. Routing the Litter Index gave us the chance to look at several areas in Longview but in a much more direct manner. Our Litter Index numbers have seen slight increases in the past years. Several factors may go into this increase:

Longview's growth continues. Often, more population and visitors means an increase in litter and waste.
Education about trash and litter is important. Citizens need to remember that Longview, Texas is undeniably one of the most beautiful parts of the finest state in the nation.Throwing trash into public and private areas is never a good way to show community pride and passion.
Cigarette butts are the most littered item in the world, approximately 4.5 trillion are discarded annually. Estimates on the required time for a single cigarette butt to break down vary from five to 400 years.

Litter Index Scores:

2016 - 1.66
2015 - 1.75
2014 - 1.68
2013 - 1.62
2012 - 1.36
2011 - 1.58

"The Community Appearance Index is designed to gather data annually and the results are used to develop a local plan to change attitudes and behaviors regarding litter and related community improvement issues. The Index helps direct the local education and litter prevention, beautification, and waste reduction and recycling programs. Keep America Beautiful uses the information to identify national trends regarding community improvement issues," states Keep America Beautiful President & CEO Matthew McKenna.

Keep Longview Beautiful has taken over the Adopt A Street program in hopes of developing more community partnerships for litter clean up and pushing our city to a greener, more environmentally friendly stage.