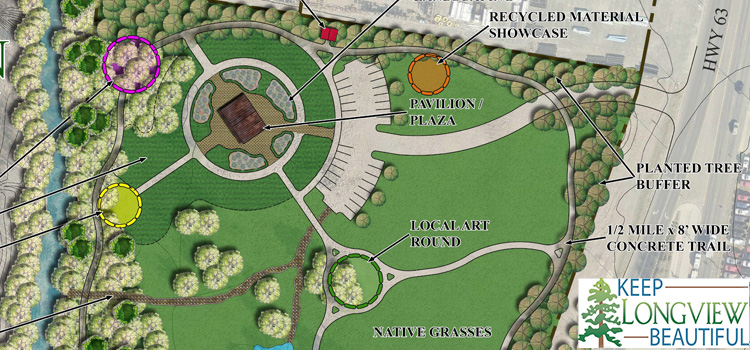 Keep Longview Beautiful awarded $400,000 grant from Texas Parks and Wildlife to build The Green.
Keep Longview Beautiful continues investment into our community. Notice of award has been given from the Texas Parks and Wildlife Department of a $400,000 matching grant to build The Green, a community driven greenspace that will enrich the lives of all East Texans. Partners on the matching grant are Longview Economic Development Corp., the City of Longview and Gregg County. The Green, a $1.2 million dollar outdoor facility, will be located at the Highway 31 and Spur 63 entryway into Longview, TX. This nine acre tract of land adjoins the new entryway Keep Longview Beautiful is building in partnership with the Texas Department of Transportation (TxDOT) and Keep Texas Beautiful. Completion for the entrance project is slated for Fall, 2015. Additionally, two Green Ribbon Projects (one completed in 2013, the other completion set for Fall, 2015) on the right-of-ways of The Green are helping to enhance the community's tree canopy. These capital projects round out extremely attractive and comprehensive investments to an area that TxDOT statistics show to be one of the most heavily trafficked entryways into Longview.
Kim Droege, Executive Director states, "Keep Longview Beautiful's next gift to our community, The Green, is a first-of-its-kind outdoor event venue for East Texas. Encompassing nine acres, The Green will enhance quality of life through nature, education, health, arts and culture. We are ecstatic The Green supports Longview's Comprehensive Plan. " This new construction will include a half mile walking trail, Gathering Pavilion, Nature Play area, Music Node, Aquatic Environmental Classroom and local Art Round. Creator of this magnificent blueprint is East Texas architectural firm MHS Planning and Design.
Keep Longview Beautiful has at present disbursed in excess of $33,000 for the creation of the master plan of The Green and for grant writing assistance. In its entirety, The Green is a $1,200,000 development. At this time, Keep Longview Beautiful has approximately $900,000 worth of donations and grant money. Droege asserts, "The Green will have major community impact. Keep Longview Beautiful is in full fundraising mode to complete our goal of $1,200,000. We are so close! This is a shout out to all of East Texas hoping everyone will show their Love Longview spirit and contact us with donations."
Donations may be sent to:
Keep Longview Beautiful
PO Box 552
Longview, Texas 75606